IPC-SAM9G45 | ATmel AT91SAM9G45Industrial CPU board
The IPC-SAM9G45 Industrial Computer is a high-performance controller board introduced by CoreWind. It is designed based on the CPU Module CM-SAM9G45 processor card which integrates an AT91SAM9G45 microcontroller, 128MByte DDR2 SDRAM, 256MByte Nand Flash, 4MB Dataflash, 2Kbit EEPROM, UART, Ethernet, USB HOST, LCD, Touch screen, RTC on board. It is connected with IPC-SAM9G45 expansion board through 200pin B-T-B expansion interfaces, The IPC-SAM9G45 expand 5 Serial port from CPU and expand 4 Serial port by System Bus.
CoreWind also offers a complete software development package to customers. The board supports linux 2.6.30 operating system and is provided with complete basic drivers which enable a quick channel to evaluate the Atmel AT91SAM9G45 processor and customize application software. It would be an ideal development platform for multimedia and communication applications.
Atmel AT91SAM9G45

ARM926EJ-S Core Microprocessor

32kbytes Data Cache, 32kbytes Instruction Cache

One 64kbyte internal SRAM and ROM

Can work at up to 400MHz

Memory Devices

SDRAM

: 128MB DDR2 RAM

NAND Flash

: 256MB NAND Flash

Data flash

: 4MB Data flash

EEPROM

: 4kbit EEPROM

TF Card

: Support 32GB TF card

RTC

Integrated RTC chips with battle back up

Mechanical

Dimensions: 135.6 * 100.3mm

Power Input Voltage: 12V

Temperature Range: -40 ℃ ~ 85 ℃

Humidity Range: 20% ~ 90%

Expansion Header

Four 20-pin Connector for extend interface

One 10-Pin Connector for Debug Serial port

One 40-Pin Connector for LCD interface

VGA-out Connector

Integrated VGA chips

VGA DAC (high speed triple DACs), Support 800*600

9 x Serial Port(TTL)

4 x Serial port from CPU function

4 x Expand Serial Port from System Bus

1 x Debug Serial port

Total

: 7 x

5-wire

, 1 x

9-wire

, 1 x

3-wire

Serial Port


USB HOST/Device 

One High-speed USB 2.0 Host port, 480Mbps

One high-speed USB OTG(Support USB Host/Device)


TF-card 

Support 32GB TF card

Display

One 40-pin TFT-LCD interface

4-wire resistive touch screen interface

Support 4.3"LCD - 10.4"LCD, Support 1024*768

Audio In/Out

Integrated Audio chips (SSC)

Support One Audio In and One Audio Out

Support 1 Buzzer

General I/O

1 x System LED and 1 x Power LED

1 x Reset Button

4 x 4 Matrix keyboard interface

2 x SPI, 1 x IIC, 1 x PWM, 10 GPIO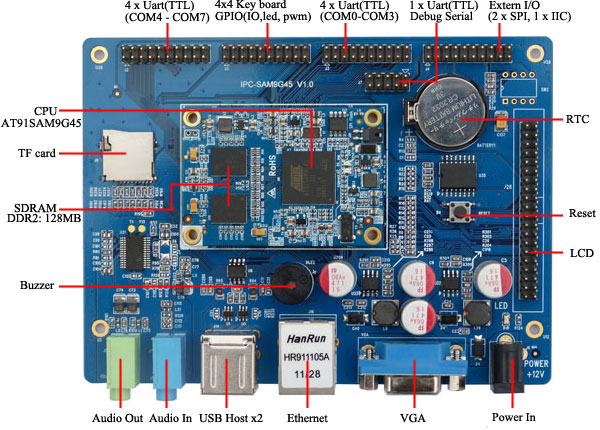 Support Linux 2.6.30 System

CAN Bus 2.0 driver

LED driver

USB Host

NET: Ethernet, TCP/IP, Telnet

Serial port driver, RS485/RS232 Driver

VGA Driver, 800*600

Yaffs filesystem

Industrial control

Field Communication
IPC-SAM9G45 Expand Module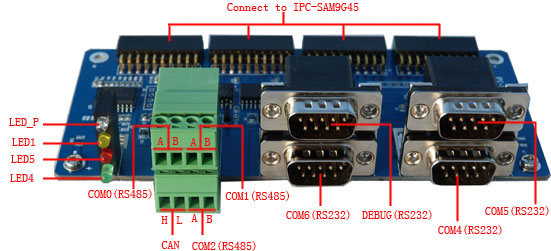 Item
Details

Linux

Download

expand follow function

4 x RS232 Serial prot

3 x RS485 Serial port

1 x CAN bus

4 x LED

Support
pdf Download